For Jumpers
Kapos DZ awaits its old and new guests with the usual high quality of services. The AN-2 aircarft is available in the weekends, during the week - following a negotiation - you can jump from a Cessna (1000-3000 m).
We offer several discount and pre-paid options for the tickets. About the prices and conditions do not hesitate to Contact us!
You can get all the latest news and events if you subscribe to our newsletter or follow our Facebook page.
Speed up your yearly registration by filling our our Jumper Registration form.
Events
Ever year in the middle of the summer we organize our biggest event and party, the "Longest day" event when we try to perform the highest possible number of jumps (between sunrise and sunset).
Early August the Wingsuit Boogie is held at our dropzone every year. It is central europe's biggest windsuit event and competition.
During the year we frequently organize Big Way camps. We encourage everyone to join the camps, where you can obtain practical and theoretical knowledge.
Rental
Solo or Tandem canopy, complete rig for rent at the dropzone
Accomodation
2-3 bed rooms with bathroom.
2-5 bed rooms without bathroom.
tent, packing area or you can sleep in your car.
These accomodations are "tourist class". If you higher needs, we can recomment the Hotel Szarkavár, which is just a few minutes from the airport.
Airport rules
1.

Main canopies must be fully open latest at 800 meters altitude!
- repeated low pulls will result prohibition!
2.

Landing approaches, turns before landing MUST BE done LEFT sided!
- repeated right side approaches or turns will result prohibition!
3.

Specified landing areas must be used for different licence holders, according to the DZ map! The area of the SWOOP course (see map) is restricted area ONLY for swoopers! Everyone must avoid the red area who is not using cross braced or high elliptical canopy, and lands on the course in the specified direction in any wind condition and direction!
- landing in wrong area or violate the area of the SWOOP course for the first time will result warning, second time immediate prohibition!
big formation of belly flyers
smaller formations of belly flyers
solo belly flyers
big formation of freeflyers
smaller formations of freeflyers
solo freeflyers
high pullers (max. 1500m)
students, AFF
tandems
trackers
wingsuit
hop-n-pop
immediate pullers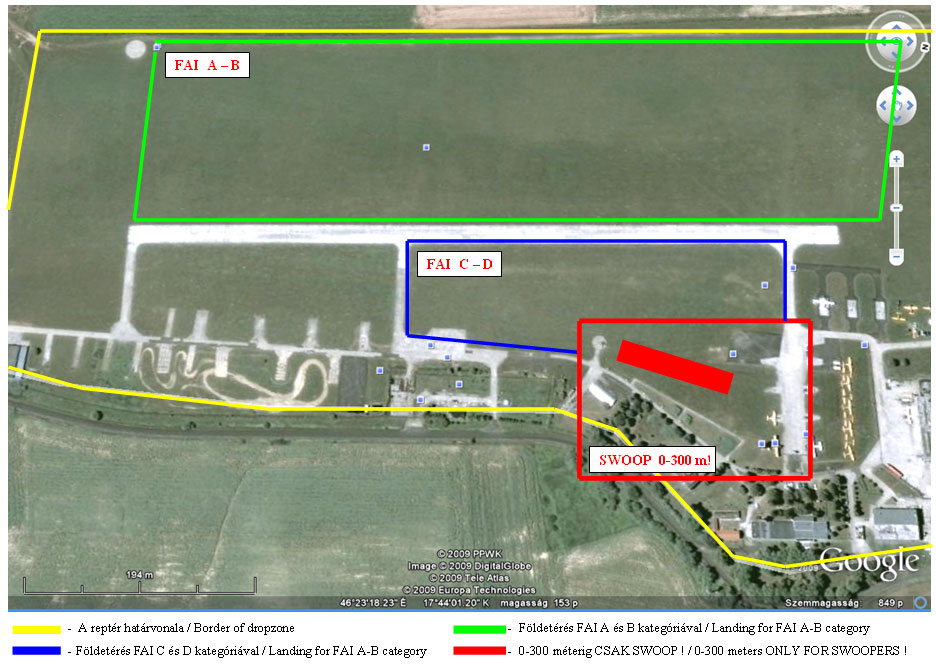 Map